I want to hang out with you in Los Angeles!
Whenever I read about the sewing blogger meet ups that are organized in London or New York I get super jealous. I want to hang out with other ladies that sew too! Well, I'm going to get my chance on Saturday, June 14th.
Kathy
,
Jill
,
Laurie
, and I have been scheming for the last month and have decided to organize a get-together for the ladies in southern California. We are going to meet up at 11:30 at the restaurant next to
The Fabric Store
,
Cafe Midi
, and have lunch, do a pattern/fabric swap (if you want to), and talk sewing. Afterwards we are going to The Fabric Store and then Mood for some shopping. If you are in the area I hope you will join us!
Just a couple of FYI things: you don't have to join us for lunch, although we hope you do! You can always join in for the shopping part of it, however I don't have an exact time on when we will be done eating. If you DO decide to join for lunch please comment on this post or e-mail me to let us know. I'm going to make reservations for Cafe Midi a week beforehand, so if you could please e-mail me before June 7th I would really appreciate it.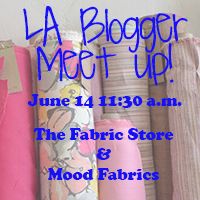 Feel free to post the button above (designed by Kathy) on your blog to spread the word :)
Hope to shop and buy some fabric with you! xo