Sew Colette 2
Are you surprised to hear from me so soon? I know, I have been posting up a storm the last few days, but today I have an exciting announcement: Rochelle from Lucky Lucille, Sarah from Rhinestones and Telephones, and I are doing another sew-along! This one is going to be a bigger one, we're sewing through the Colette Patterns library. I know, at first it sounds like a lot to take on, but since it's bi monthly it will be a lot easier to fit into everyone's schedules. Plus, you can pick and choose which patterns you would like to sew along with.
The first pattern will be the recently released Hazel dress, but future patterns will be decided by you. Participants will vote on which patterns they would like to sew. The pattern with the most votes will be the next project.
I hope that you will join us in one, some, or all of the patterns. This sew-along is not just for experienced sewers. Remember, at the start of the last sew-along (
Sew Colette
) I had only sewn a handful of patterns. With the help of others in the online sewing community and using the
Colette Sewing Handbook
as a reference I was able to learn so much. I hope that you will consider joining us!
Thank you to Rochelle for making these buttons. Feel free to take one and add it to your blog.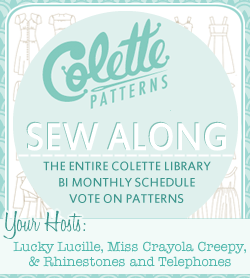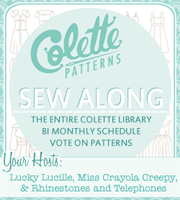 Peony schedule
Week of October 1st:
Sew-Along Kick-Off (Muslins, measurements, etc)