Renfrew
Did you know that I like animal prints? ;)
Yesterday I made myself a
Renfrew
t-shirt.
Sewaholic
makes this amazing pattern which I ordered a little while back. Why did it take me so long to sew up? To be honest, it was because I was afraid of sewing with a knit fabric. Someone (I don't know who) put it in my head that knits are hard to sew with and I have been scared ever since.
Lauren
must have sensed my fear because she wrote up
this awesome guide
for my scaredy cat self!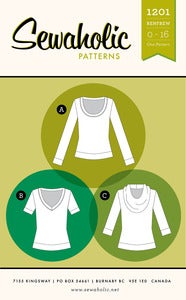 Before I started sewing I made sure to get ball point needles and twill tape. Both of these were new to me, but not hard/scary to use in any way. The shirt was so easy to sew up, it only took me maybe three hours or so. The version I made is a short sleeve shirt (view b), but with a scoop neck (view a). I didn't make any adjustments other than adding 2.5 inches to the length because I don't like short shirts that ride up and show my tattoos. And I don't like the random weirdos that talk to me about tattoos!
Basically, I am obsessed with this pattern and I want to make this shirt in every knit available. Once you find a pattern that works, you stick with what you know, you know? My work is a jeans and t-shirt kind of place, so the Renfrew is perfect for my life.