Announcement - Sew Colette
Hello everyone! I am so excited to announce that Sarah from Rhinestones and Telephones and I are going to host a sew-along for the five patterns included in the new Colette Patterns book. When I first got the book I didn't know where to begin, I wanted to make all five patterns. Sarah was in the same boat! We decided to team up for a sew-along and make a project a month starting at the beginning of the book. We would love it if you followed along to one, some, or all of the patterns.

Many thanks to Sarah for organizing this and to Sarai for making such an incredible book!
Please don't think that you need to be an advanced sewer to follow along.

I am fairly new to garment sewing, I can probably count the number of different patterns I have used on one hand! With Sarah's knowledge, Colette's wonderfully designed patterns, and step by step instructions, I think we can do it!

Just think, at the end of May we will have five nice garments to wear :)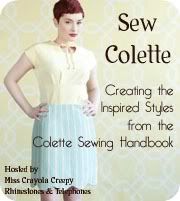 Feel free to post either of these buttons to your blog.
_______________________________________________
_______________________________________________
_______________________________________________