Cat Lady Sewing Challenge
Around a month ago
I blogged about a skirt I made using a fabric with cats on it
. Just before hitting the "publish" button I suddenly had an idea for a Cat Lady Sewing Challenge and asked if anyone would want to join in. There was a good response, so here is the official post: will you join me in making a garment using cat themed fabric? Many of us own and love cats, so I thought a challenge dedicated to our buddies would be a cool way to acknowledge our amazing pets AND would be a good reason to use that crazy fabric we've been eyeing, but haven't had the excuse to buy.
This sewing challenge is meant to be fun and casual, not competitive. You have from now through the end of October to complete an article of clothing using a fabric with cats, extra points if there is cat hair on it haha ;) Yes, leopard/cheetah print counts too.
I'll do a round up on my blog in the beginning of November and will be giving away a prize to a lucky winner. If you would like to be eligible for the prize please join
the Flickr group (here)
where you can upload in progress or completed garment pictures, ask for fitting help, and talk with others.
Here are some buttons that you can display on your blog, if you would like :) And feel free to hashtag #catladysewingchallenge if you're on Instagram!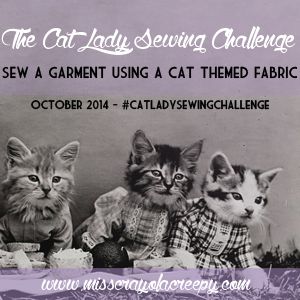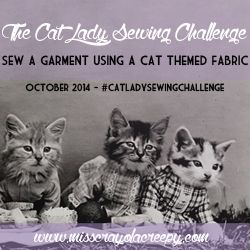 Who's in?