My "first" quilt.
I am hesitant to call this my official first quilt because I have actually made three now, but I feel that this is my first one. I started it in Bobbi's class for the Spring project and finished it (with the exception of the binding) before I started the other quilts. This is the quilt where I made mistakes and learned basic techniques which will help me when I make others in the future.
It all started earlier this year at
Quiltin Cousins
when I saw some beautiful Civil War reproduction fabric, but didn't buy any because I didn't know what to make. The next day I saw online that there was a quilting class that started Monday, the next day. I joined the class and learned that the project would be a Civil War pattern. It was meant to be, I knew immediately that I had to go back and get that fabric!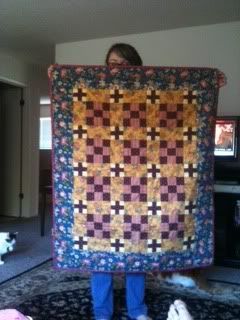 Here is the finished product... and Luke's foot! There are many mistakes throughout (pieces sewn/cut the wrong size, pieces not lining up perfectly, far from perfect quilting, etc.), but overall I am really pleased with how it turned out. Hopefully my Grandma Rosie will be too since I am giving it to her in a few weeks.
The back is made from scraps I had left over.
What I learned when it was all over: how to measure/use a rotary cutter properly (yes, I'm serious), basic free motion quilting, how to use my 1/4 in foot/walking foot/free motion piece, the importance of cutting and sewing as precisely as possible, stitching in the ditch, sewing on binding, and many other things that aren't coming to the top of my head right now! :)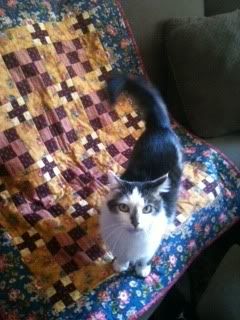 Little Miss Stella approves!
While making the quilt I kept wondering if it was something Scarlett O' Hara may have used.
Maybe?